Posted on May 17, 2023
The face of cardiac care is always on the move, with the latest new shift now a result of remote monitoring by medical device companies. This approach to cardiology is not time or location-bound. Instead, care is disseminated regardless of location or time gaps, enabling care from anywhere. Remote patient monitoring has been a revolutionary and game-changing piece of technology for a couple of years now. Today, we deep dive into the details to bring to the fore some of the many revolutionary ways it is changing cardiac care for the better. Here's a look at how medical device companies, through highly innovative RPM solutions, are transforming cardiac care.
---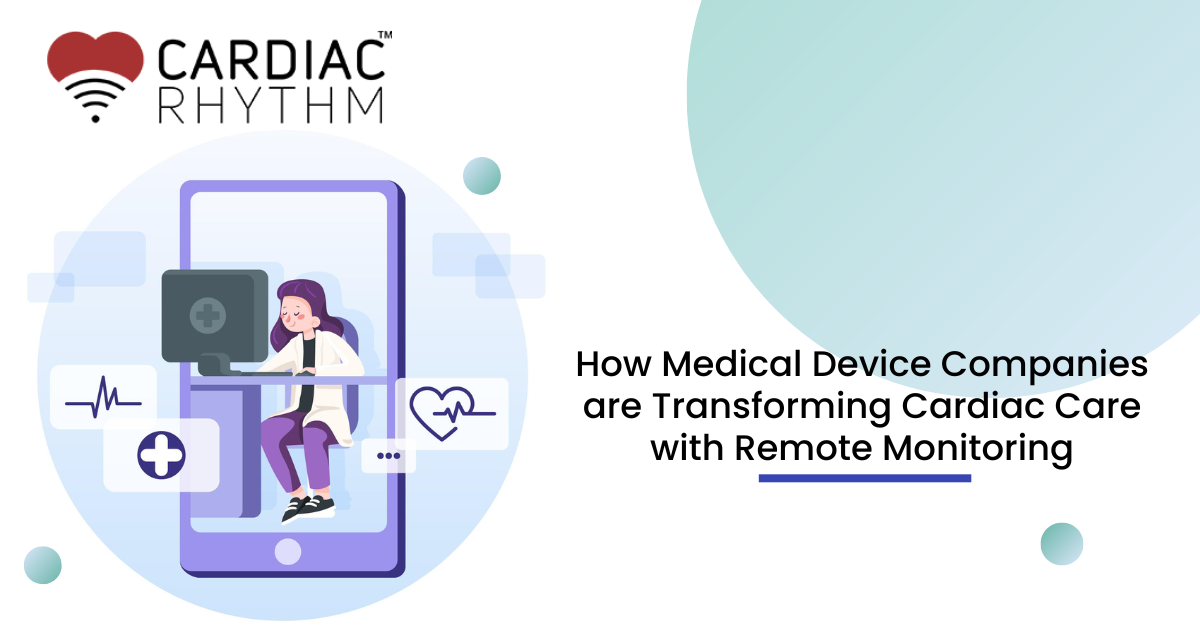 ---
Unearthing relevant data that saves lives
Heart disease claims close to 700,000 fatalities a year in the US and 17 million worldwide, ranking as the number 1 killer. Remote patient monitoring, in collaboration with other digital health technologies, could be the remedy to lowering these numbers.
RPM solutions help cast the spotlight on heart activity and thereby heart disease in greater detail than ever before. With the ability to toothpick through data in real time and around the clock, physicians have access to comprehensive analytics and metrics.
As a result, cardiologists today rely on advanced data-driven methodologies that help pick out even the most asymptomatic of cases, thus helping to achieve fewer heart disease deaths.
RPM is making heart care more proactive
Remote patient monitoring is not only for sick patients. It can also be a proactive healthcare tool that physicians can use to identify high-risk cases likely to develop into more advanced cardiac complications.
For instance, medical device companies have built apps and wearables that can track several important metrics, including:
1. Disturbances in rhythm
2. Blood pressure
3. Heart rates and more
These thresholds or vitals can give valuable insight into patients in terms of levels of physical activity and their diet, thus easing the identification of unhealthy habits that are likely to lead to heart disease. Furthermore, remote patient monitoring can also help detect the early onset of diabetes and other illnesses that predispose patients to heart disease.
Enabling the decentralization of cardiac care
Remote patient monitoring also paves the way for cardiac care that's not tethered to a physical health establishment per se. Care providers can rely on RPM technology to monitor arrythmias remotely without having to inconvenience patients with in-person examinations.
There's a broader perception of triggers throughout the day, in addition to devolved care that can be run from the patient's home or wherever else they need to be during the day. This makes it especially appealing for chronically ill patients who are also suffering from mobility challenges.
Physicians, on the other hand, also enjoy similar location freedom. Modern monitoring technologies such as Cardiac Rhythm's also involve physician portals, complete with personalized workflow tracking tools. Clinical staff can work from various locations without a drop in care quality or coordination.
With this decentralization, care providers can realize more efficiency in resource allocation as well as a reduction of care disparities, more so between urban and rural regions.
Care unification due to versatile sensor technologies
Through the power of new-age technology, cardiac remote monitoring companies like Cardiac Rhythm are streamlining cardiac care with more innovative solutions such as multi-functionality heart biosensor wearable devices.
These versatile devices are usually the first line of the RPM ecosystem and they are enabling cardiac care providers to do a lot more with a lot less. In place of what would have been two distinct technologies, the company affords a heart biosensor that merges:
1. Long-term monitoring needs
2. Intermediate monitoring needs
3. Short-term monitoring needs
Essentially an amalgamation of long-term holters and event recorders, these biosensors enable the execution of two separate functionalities in one go.
Monitoring that goes above and beyond with AI
There's pressure for medical device companies to do more than just provide generic remote mobile cardiac monitoring services. With the US splurging close to $220 billion annually on cardiac care, this exemplifies the dire need for better monitoring. Not to mention the amount of competition in the industry as well.
Subsequently, companies such as Cardiac Rhythm are offering additional value for their RPM services. Beyond the multi-purpose heart biosensors we mentioned, the brand is also tapping into the possibilities of artificial intelligence to also help physicians with ECG interpretations.
AI-assisted diagnostics and monitoring are making the clinical workload a few tasks lighter, in addition to improving turnaround and accuracy. This is setting the pace for a new age of healthcare, featuring human and machine learning collaborations.
Automated monitoring that eases clinician effort
Medical companies have also taken up their monitoring game a notch. Today, with features such as automatic data capture or auto-triggered vital recording, clinician workflows have a lot less to deal with in terms of manual interventions for collecting, recording, and managing patient data.
As automation eliminates or reduces the number of tedious and monotonous monitoring tasks, healthcare providers are beginning to reap the following benefits:
1. Increased attention to patient-physician interactions
2. Fewer human errors
3. Higher clinician satisfaction
4. Better physician retention
5. Improved patient engagement
RPM is enhancing triage management
Clinical workers often have to look after a significant patient load. Every day, these front-line workers are faced with the challenging decision of determining higher-priority cases for intervention.
Conventionally, triage best practices are based on the institution's policy as well as health data that physicians consider before classifying a patient into one priority category or the other.
Remote patient monitoring solutions can ease triage management for physicians by making available even more health data points. With more health indicators to work with, nurses can arrive at more informed triage decisions and thus patient management and health outcomes.
Remote patient monitoring is the future
Close to 8 in 10 patients are in favor of remote patient monitoring, and it's not difficult to see why. RPM and cardiac ECG monitoring services are transforming cardiac care in many positive ways. From devolving care to improving diagnostics in health care, medical device companies are spearheading the charge for a new and better era. As we speak, remote patient monitoring solutions are the new normal and will retain a place as a permanent component in this new age of healthcare. Contact Rhythm today to transform your facility's cardiac care with the best-in-class remote monitoring.
Tags: Remote Cardiac Monitoring Service, Remote Heart Monitoring Devices, Remote Patient Monitoring, Remote Patient Monitoring Services