Posted on December 16, 2022
We're in the age of decentralized cardiac care which has certainly taken the world by storm, a trend that looks set to continue into the new year if the statistics are anything to go by. According to data from an American survey early in 2022, the number of people who wear fitness trackers has risen exponentially to 41%. As many begin to take their wellness seriously while hospitals try to tap into next-gen technology, heart health monitoring devices have flourished as the next step in healthcare evolution. Today, we explore just how this technology is transforming the industry. Take a look:
---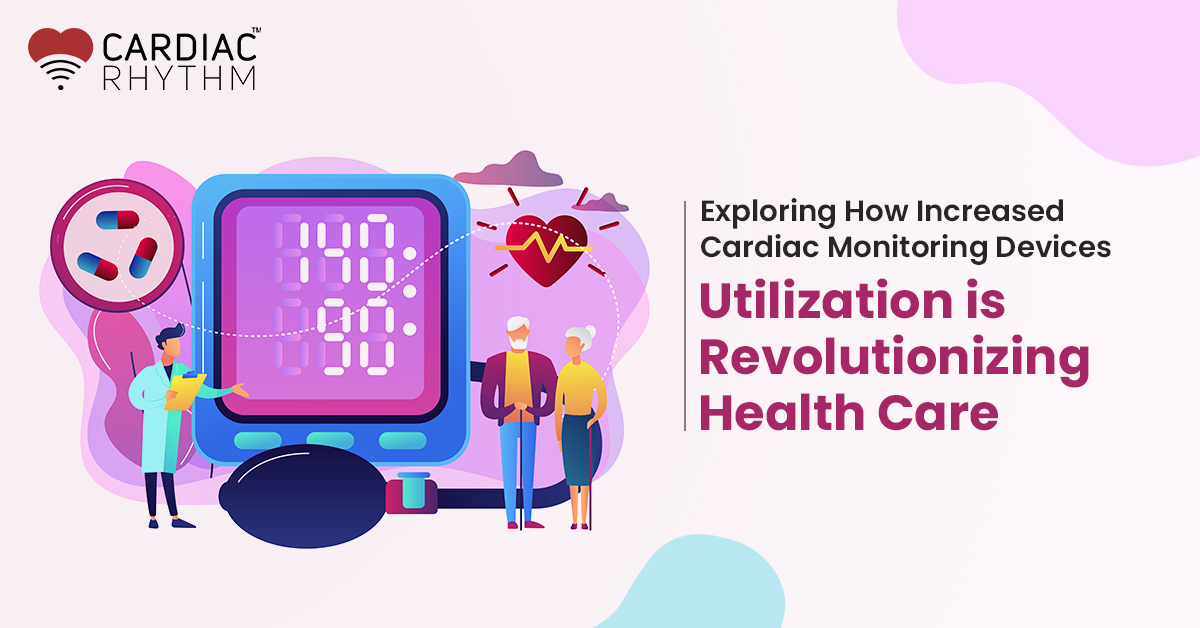 ---
1. The rise of cardiac monitoring device usage is enhancing patient compliance
So what is the importance of patient compliance anyway? Well, it is always an important variable for desirable health outcomes, no matter whether facilities are dealing with acute cases or more serious conditions. However, it gains even increased significance in cardiovascular care, where missing a step might be the difference between well-being and myocardial infarction.
However, cardiac monitoring devices, wearable ones, to be specific, are improving patient compliance because of the following:
Portable and comfortable: With little effort on the patient's part, modern cardiac monitoring technology is fitting in seamlessly without patients having to go out of their way.
Better patient engagement: Patients now are the first line of their own healthcare. They take charge of recording their own vitals, and better understanding data that is readily available on their condition
Improved monitoring: Near real-time cardiac monitoring enables physicians to stay on top of important details round the clock. With auxiliary technologies also easing communication between patients and physicians or care teams, it becomes easier to know when they are veering off course
2. Healthcare outcomes in cardiac care improve in the long run
Several factors hinder positive health outcomes for care facilities, and one of which physicians have had little control over until now is treatment adherence. We've already discussed how the increased usage of cardiac monitoring devices is enhancing compliance, but there's another huge secondary bonus stemming from this as well.
With improved patient compliance, the success of a treatment regimen improves. But that alone cannot take all the credit. Cardiac monitoring technology at large is improving healthcare outcomes for the following reasons too:
1. Round-the-clock monitoring ensures physicians can monitor important thresholds ahead of adverse clinical events.
2. Minimization of human intervention which is reducing the margin of error in cardiac care
3. Richer data sets to work with due to near-real-time heart monitoring
3. Stripping away capital costs for superior cardiac care
Not all facilities can afford to set up robust holter monitoring technology, including not just the cost of new equipment but also new expertise. But by outsourcing their cardiac monitoring needs, facilities can still reap the benefits without requiring hefty capital and hence for a fraction of the expense it would attract otherwise.
For example, when you outsource your cardiac event recording or portable holter monitoring requirements to Cardiac Rhythm, you can instantly start leveraging our technology and ready team of highly qualified technicians. There's no startup capital cost incurred and you don't have to expand your clinical team either.
4. Increased cardiac monitoring devices utilization is leading to a devolved model of care
For a long time, cardiovascular care has been centralized, typically confined to the premises of a care facility. A lot of care processes couldn't occur outside of this setting, but with the onset of wearable cardiac technology such as biosensors, this traditional way of cardiac care is changing rapidly.
Portable cardiac monitoring technology is gaining increasing preference among patients due to the conveniences they provide such as:
1. Reduced hospital stays and visits
2. Easy access to physicians
3. Lower costs
4. Peace of mind, and more
With this rise in cardiac device utilization for the aforementioned reasons, so too has the transition from a centralized to a devolved system of cardiac care accelerated. Thanks to this technology and its increasing adoption among physicians and patients, we're well on our way to a new healthcare reality. That is hybrid care or the combination of in-person and remote care solutions.
5. Setting the pace for multi-purpose solutions in healthcare
Thanks to advanced bio-sensors and an increase in the trend of patients taking a liking to them, we're now on the cusp of a new dawn in cardiac healthcare: multi-serving technology. This is enabling care facilities to kill two birds with one stone, while patients, on the other hand, incur a decreased burden in terms of both cost and effort.
We'll explain with an example. Here at Cardiac Rhythm, our wearable cardiac technology merges two functions that would otherwise require separate devices into the singularity of one. Now you have two solutions under the roof of one device, with our technology catering to both cardiac event recording and long-term holter monitoring.
6. Increased demand is fueling superior and more accurate healthcare technology
As more and more attention starts heading the way of cardiac monitoring devices, due to these and more benefits we've discussed, we're also noticing a sharp upturn in accuracy as far as these services go. This has partly been due to the adoption of new and better technology, not least of which is artificial intelligence and machine or deep learning in particular.
For example, our very own biosensors have refined accuracy to an extent that is helping healthcare providers to improve diagnostic yield to up to 63% or more. This is over four times as much as holter monitoring technology.
Beyond ourselves, accuracy will also continue gaining preference among manufacturers, as devolution quickly becomes the new first line of healthcare rather than a nice-to-have option.
The disruptions will keep coming
According to various estimates, we expect the wearable device industry to hit more than 100 billion before the turn of this decade. What that means is we're bound to continue to see more people and institutions tapping into cardiac monitoring technology. We've discussed how the increased usage of these devices is disrupting healthcare, but you can be on the right side of the revolution by leveraging cardiac remote monitoring services for your practice. Call us now for a one-stop solution for your remote cardiac care needs.
Tags: Cardiac Monitoring Devices, Cardiac Monitoring Services, Cardiac Rhythm Monitoring