Posted on January 18, 2023
In America, 1 person is experiencing a heart attack every 40 seconds, with the country's affected yearly population hitting over 805,000. From that number, the statistics continue to look graver as over 75% are due to a first heart attack. These statistics go to show that heart problems are rampant, and we must leverage the latest advanced cardiac monitoring solutions if we are to get a handle on the situation. To that end, we will be discussing Cardiac Rhythm's state-of-the-art bio-sensors and how they are helping ensure more positive and sustainable heart health outcomes for people everywhere. Let's get started.
---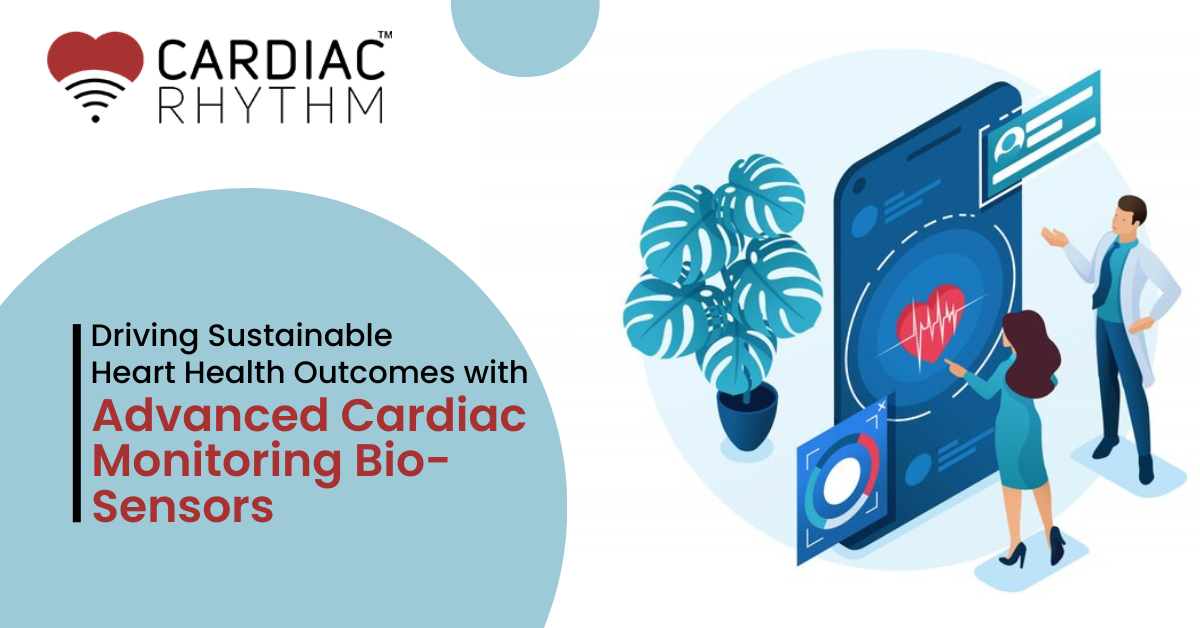 ---
1. Activating patients with our biosensors
When it comes to heart disease and other chronic illnesses really, patients have to be engaged in the care process. Otherwise, a physician's intervention alone may not cut it in terms of ensuring more positive results in the long term. Patients need to understand their role in the care process and feel like a valuable aspect of it if they are to take a serious interest in their heart health for the long term.
One of the ways to increase patient engagement, especially in cardiac care, is by tapping into technology that keeps the patient actively involved in the management of their own health data. And that's where our advanced cardiac monitoring biosensors come to the rescue.
First of all, these biosensors allow patients to be better connected to their health. They can access advanced data about their conditions through a mobile device and via a simple user interface that's also built to cater to patients who may not be very technologically savvy. Additionally, our technicians also offer a pock diary to patients who receive our biosensors, enabling them to take down symptoms and generally play a more active part in the care process.
2. Physicians getting a more holistic view of cardiac health
Advanced cardiac monitoring sensors are typically part of a robust cardiac monitoring program that ensures no lapses in monitoring whatsoever. Physicians will never miss a beat, keeping tabs on the heart's electrical activity 24/7 for as long as the biosensor remains attached to the patient.
Conventionally, vital monitoring was a sporadic affair carried out during in-office appointments, which ensured limited data points hence a constricted view of the patient's health. With Cardiac Rhythm wearable biosensors such as the Faros 180°, that ceases to be the case. Round-the-clock monitoring has ensured constant access to the patient's biometric data, encompassing health parameters such as:
1. HRV or heart rate variability
2. Stress recovery
3. Activity tracking and so much more
Additionally, these sensors are the first touch point of a real-time cardiac data monitoring system which ensures physicians can get wind of parameter deviations the moment they set. Consequently, clinical intervention is always fast and prompt, ensuring heart health that goes the distance.
3. Advanced biosensors enforcing medication adherence
Do you have to take heart medication forever? We receive this question several times from our patients, which goes to show the toll medication can take on individuals. Unfortunately, having a cardiac illness is a lifelong condition that may require medication for the entirety of a lifetime.
It's understandable why patients can find it hard to keep up with medication regularly. The temptation is to stop using it once the patient starts to feel better. However, doing so can reverse the gains made from the treatment up to that point.
With our advanced biosensors, physicians have better oversight over the patient. They can easily monitor medication adherence and therefore promptly intervene when they notice a patient is not following their treatment plan. In fact, doctors can even help to better plan for the patient acquiring new prescriptions when they're running low, ensuring sustainable heart health benefits.
4. Technology that's affordably sustainable for the long run
Is heart disease expensive to treat? According to recent statistics, the average person typically spends north of $2,000 annually to manage heart conditions, and that's with insurance in the picture. In the US, for example, the annual economic burden on the health care system due to cardiac illnesses surpasses a whopping $219 annually, covering expenses such as:
1. Medications
2. Acute care services
3. Emergency medical intervention
4. Readmissions
5. Monitoring, etc.
In a nutshell, the point is, when heart disease becomes expensive to manage, chances are that quality cardiac care will not be sustainable.
Admittedly, a lot more needs to be done, but leveraging a more economically viable cardiac biosensor solution for the long run is one way to start rectifying this situation. For example, Cardiac Rhythm's biosensors are an affordable piece of technology that lowers the economic burden on both cardiac patients and hospitals by reducing in-person visits, cutting down on hospitalization, and generally lowering several other utilization costs.
5. Built for comfort and built to last
Patients with heart disease will likely need to have to put up with cardiac monitoring sensors for the long term. When the technology is bulky, uncomfortable, or irritating, then patients will have a hard time using these gadgets continuously every day.
The right bio-sensor technology such as Cardiac Rhythm's Faros 180°, however, ensures comfortable long-term use due to the following features
1. Lightweight design: Light as a feather, the wearer can go about his daily activities with maximum comfort
2. Compact and easy to manage for both patients and physicians
3. Long-life battery that can provide up to 2 weeks or 14 days of service for the patient, in addition to instant measurements
What's more, this biosensor presents a plethora of mounting options for patients, ensuring the most comfortable placement for each particular individual. Overall, when comfort and durability are assured, heart health patients can keep on reaping the benefits for a long time to come.
Cardiac Rhythm- A healthy heart for a happy lifetime
Our advanced biosensors are built to drive lifelong and more sustainable heart health outcomes for patients and physicians. They lower the financial burden on both hospitals and patients, ensuring an economically viable solution that patients can sustain for as long as necessary. Moreover, with advanced customization available, personalization of cardiac care becomes easy and physicians can better match care with the exact needs of their patients. Contact us now to get our life-enriching heart health biosensors