Telemedical solutions and services have become widely popular in recent times. With the technologically advanced research and support offered to hospitals, clinics and pharmaceuticals, it has become convenient for doctors to treat their patients. One such facility is the wearable heart monitor device provided by Cardiac Rhythm to monitor every movement of patients' hearts. As we know, cardiac arrhythmia has always been one of the major challenges for healthcare providers. Let us comprehend how Cardiac Rhythm's monitoring devices will help you offer tailored diagnoses to cardiac arrhythmia patients.
---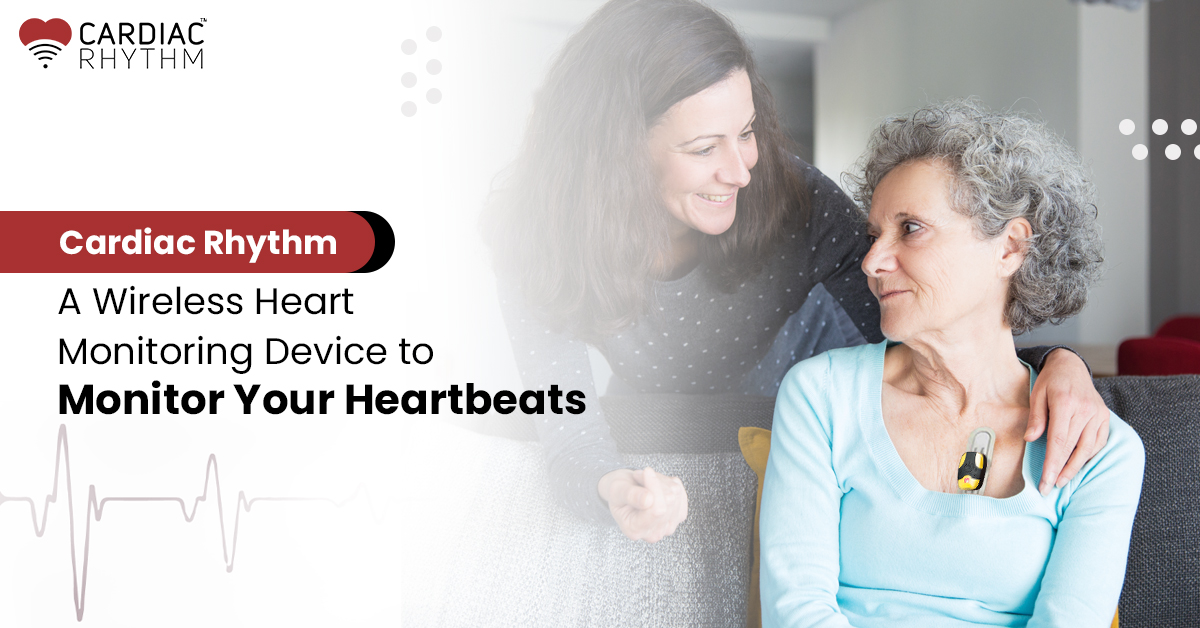 ---
Cardiac Rhythm's Heart Monitoring Devices: A Breakthrough
Remote heart monitoring devices work on well-integrated and technologically advanced systems. The efficiency of these devices depends upon the productivity of the medical team. Cardiac Rhythm is one such name in this list that offers cardiac telemetry monitoring services. The features of these devices are highly adaptable and functional for patients. Doctors and physicians can also use these devices to the best of their capacity. Let us look at the features and benefits of the wireless heart monitoring device to monitor your patients' heartbeats.
Features of Cardiac Rhythm's Wireless Heart Monitoring Device
The wireless heart monitoring device designed and integrated by Cardiac Rhythm boasts of all the features and facilities required to diagnose cardiac arrhythmia patients. Hospitals and clinics must house these wearables for every patient suffering from cardiac events.
Near Real-Time Update

Near Real-time updates and notifications are crucial for heart performance monitor services channelled through Cardiac Rhythm monitoring devices. The wearables are authenticated and configured to digital devices. So, you get to follow every movement digitally without any possible glitch. Your patients will feel comfortable and at ease when they know their doctor is monitoring their condition live.

Comfortable Fit

Wearing a monitoring device 24×7 is not functional for every patient, especially aged people. Therefore, doctors need to offer comfortable wearables that are easy to carry and patch on the skin. Cardiac Rhythm ensures that every monitoring device is lightweight for patients to be content with its usage.

Pay-Per-Use Facility

Some medical firms sell wireless monitoring devices that are charged at a high price. This pricing leads healthcare providers to offer Cardiac Event Recorder services at an increased cost. Bearing this cost for a long period can be problematic for some patients. Therefore, you must offer Cardiac Rhythm's pay-per-use facility to your patients.

Advanced Technical Support

Technical support and advancement affect the performance of wireless heart monitoring services. The Cardiac Rhythm team is active and modifies the execution of these devices on all digital platforms. The chances of glitches are merely visible in these devices. You can rely upon its live feed without having to worry about its reliability.

Round-The-Clock Recording

The major challenge for doctors and hospital authorities was to offer 24×7 observation to cardiac arrhythmia patients just to record a 2-minute phenomenon. It is not cost-effective for both parties involved in this process. So, round-the-clock recording is a necessity and possible with the help of Cardiac Rhythm 24 hr ECG monitoring services.

Easy Interpretation

Interpreting the recorded data to understand the movement of your patients' hearts is the major part of diagnoses. Cardiac Rhythm's digital feed is easy to read and comprehend. You can follow slight movements to see the changes recorded during cardiac arrhythmia events. This interpretation is highly beneficial!
Benefits of Using Heart Monitoring Device For Patient Care
The advantages of using Cardiac Rhythm monitoring devices outlay other alternatives available in the market. These benefits are for hospitals and clinics to provide profitable services to patients. These devices will help you hold onto your patients and diagnose them effectively without having to worry about the repercussions.
Reduced Risk Factor

There is always a risk to diagnose cardiac arrhythmia patients since normal ECG reports can never record or interpret the random events. This risk reduces drastically with the help of wearable biosensor devices labelled by Cardiac Rhythm. You must offer the best-in-class services to your patients.

Enhanced Patient Care

Patient care becomes mobile and possible with the help of monitoring devices integrated by Cardiac Rhythm. You can look after your patients and follow their movements to ensure long-term services. Your patients will feel secure and safe under your surveillance. You can increase your team's efficiency and performance by using near real-time and active updates. ECG monitoring services are profitable to healthcare service providers.

Magnified Heartbeat Monitoring

Cardiac arrhythmia monitoring services are magnified widely with the help of effective services offered by Cardiac Rhythm devices. The process is backed by digitally enhanced wearables that record every movement. So, you can guide your patients keeping all the records and information in check. Make the most of these monitoring devices by using them to diagnose your patients.

Increased Productivity

The productivity of hospitals and clinics in providing cardiac arrhythmia treatment increases with the performance of these wearables. You can monitor every second of the heart movements of your patients and follow them digitally without being physically present in the hospital. Patients rely upon doctoring teams that provide detailed treatment procedures.

Value For Money

The pay-per-use feature of these wireless heartbeat recording services makes them affordable for patients. When your patients get the value for money under your supervision and guidance, you get a strong base. Offering this value for money will help you in making every treatment successful.

Fast Performance

The fast and effective performance of Cardiac Rhythm's monitoring devices will help you provide meticulous treatment. The near real-time updates are accurate and live, allowing patients to reap the benefits of comfortable wearables.
Utilise The Efficiency of Cardiac Rhythm Monitoring Devices
Cardiac Rhythm is one of the leading names in the healthcare industry with its tailored services in offering heart monitoring devices. Its support has helped many clinics, hospitals, and patient care units to provide the best diagnostic solutions to cardiac arrhythmia patients. Our technical team maintains the robust performance of every cardiac ECG Monitoring service. You can record every movement of your patient's heart with the enhanced biosensors of this device. Visit our website or contact us online for more details.